CHARACTERISTICS AND
ADVANTAGES OF ARBITRATION
Learn more
The Salzburg Court of Arbitration is a private institution for
dispute settlement. It represents an alternative to state-courts.
Fundamental differences:
The parties are free to choose their arbitrators, allowing the appointment of specialized arbitrators of different professions.
Arbitral proceedings are confidential.
All participants are bound to secrecy.
Decisions are final and binding.
Appeals are only admissible in the case of substantial procedural violations.
The duration of arbitral proceedings is usually shorter than in state-courts.
The parties have direct influence on the case management allowing a flexible conduction of the arbitral proceedings (e.g. determination of the venue and language of the proceeding).
Arbitral awards are enforceable in all 156 member states to the UN New York Convention 1958.
Arbitration therefore is especially suitable for dispute settlement proceedings in an international context, complex proceedings in connection to different professions (e.g. construction disputes) and multi party disputes.

Salzburg court of arbitration
Learn more
Salzburg is situated in the middle of Europe und thus in the heart of the southern German-speaking economic area (Austria, Switzerland, South Tyrol, Liechtenstein, Baden-Wuerttemberg, Bavaria).
Salzburg is easily accessible, has always been a stronghold for society and culture and is constantly developing as a business center.
The Salzburg Court of Arbitration is administered by experienced experts in the field of arbitration. An ideal interlocking between procedural law and expert knowledge is assured by appointment of arbitrators being legal professionals and coming from a wide range of other specialist areas. Arbitration conducted under the auspices of the Salzburg Court of Arbitration provides an efficient and time/cost economic alternative for resolving disputes. Awards may only be contested directly before the Supreme Court on grounds of substantial procedural violations.
Arbitral proceedings before the Salzburg Court of Arbitration are conducted in a flexible way and are adapted to the matters of evidence and legal issues in question. This ensures the best ratio of procedural effort and result.
The Salzburg Court of Arbitration regularly offers training and education for arbitrators and counsels thereby creating a constant exchange between practical experience and the theoretical knowledge.

Process of arbitration
Learn more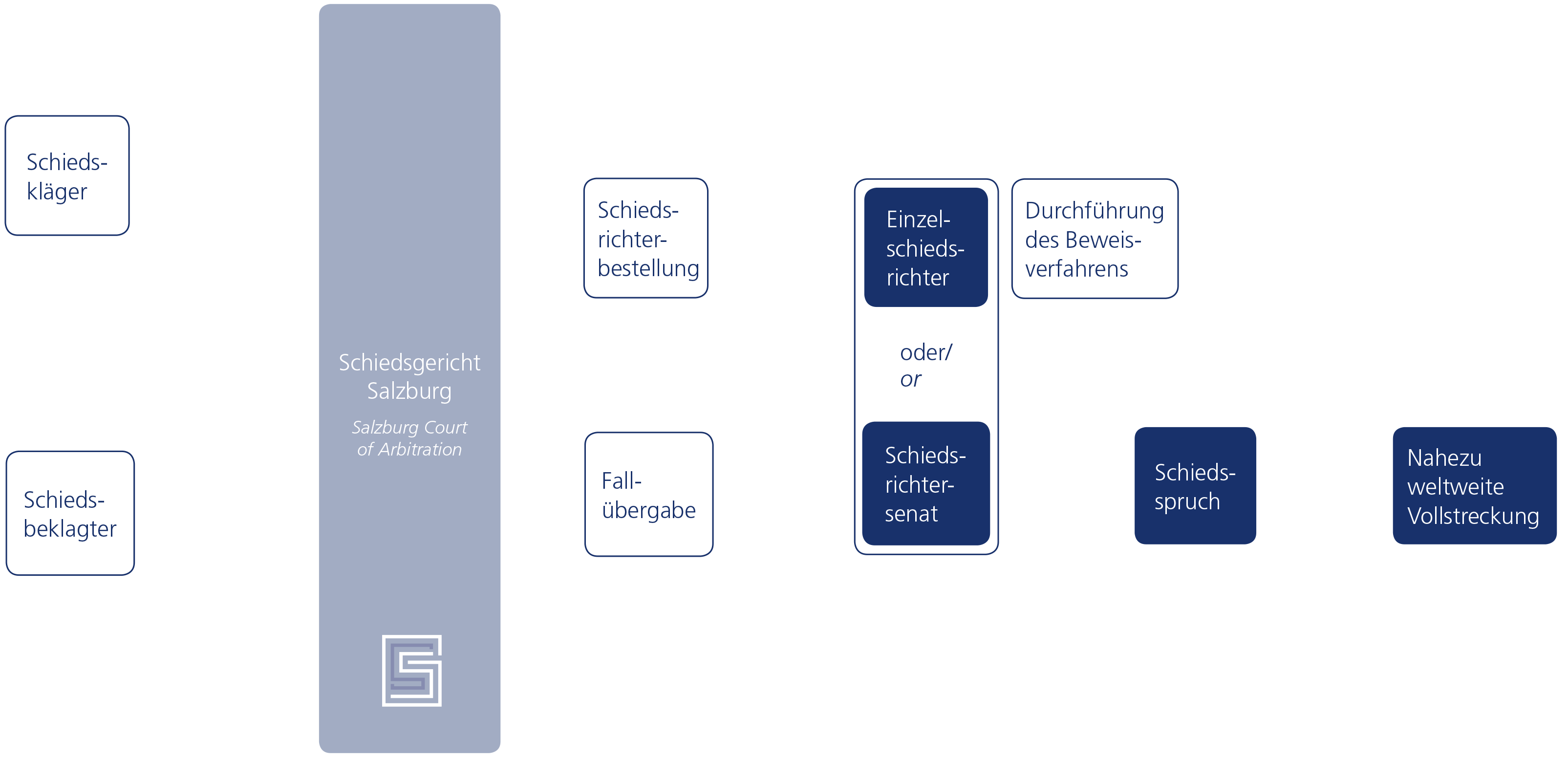 Model clause arbitration
Learn more
To establish jurisdiction under the Salzburg Court of Arbitration, the following arbitration clause is recommended:
"All disputes arising out of the present contract or in connection with the present contract or about its validity will be conclusively decided under the rules of arbitration of the Salzburg Court of Arbitration "Salzburg Rules" by a court of arbitration appointed in accordance with these rules."
Recommended supplements to the clause:
a) The number of arbitrators shall be ……… (one or three).
b) The substantive law of ……… shall be applicable.
c) The language of the arbitration proceeding shall be ……… .
d) The arbitration procceding will take place at ……… .
The model clause is not a substitute for counselling of a specialist with regard to its individual application. Rely on the expertise of your legal consultants.

The arbitration rules

Contact
How to reach us